Entrapment is an adventure game that I created for the AGS Bake Sale a year or so ago and is not currently available for people to play, as it was exclusively for a pay-what-you want bundle in which the proceeds went to charity. Now the timeframe of exclusivity has lifted and I'm free to release Entrapment to the public, but not before I make a few Changes. These changes include:
Improved Menu System
Removal of spelling errors
Removal of flashing cursor bugs
Improvements to opening cut scene
Improvement to some of the puzzles
There may be other changes, but this is all that is planned for now. While I am making these changes ready for the game's re-release, I thought I'd share some old development diaries I kept from making the original. The following post was from Friday 14th January 2011. It has been updated them slightly:
The following is a screenshot of the prototype for project: 'Entrapment'. Entrapment is an adventure game with a story written by me.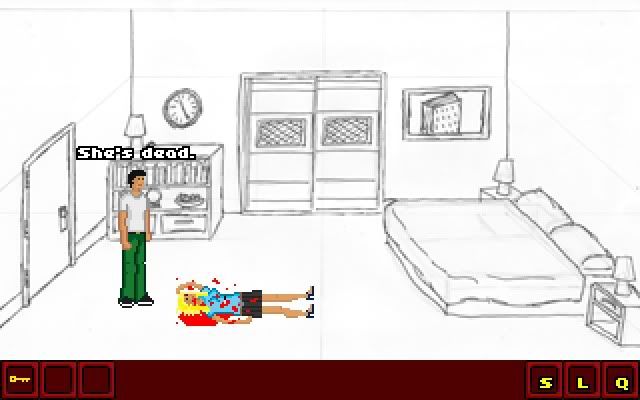 Of course the artwork is simply placeholder, but I've been mostly working on the code/script for the game. It has been created using Adventure Game Studio.
 Looking back at the prototype, I can already tell that my artwork has improved since then. With the prototype, I sent it out to testers and got some feedback on the game. I think it was around 3 people in the end, who gave up their time to play this awful demo. They mostly were saying to keep going with it and they were looking forward to seeing it finished.
I'll be updating with more Entrapment posts in the coming weeks/months/however long it takes to get it ready.